Ice Cream Science
$ 70,00
Enjoy making your own ice cream? But want to get a better understanding of what makes an ice cream a failure or a success? Join us on a journey to discover the science behind ice cream. We'll discuss why adding too much sugar can turn your ice cream to mush, or why adding air can make an ice cream taste warmer, and much more.
Besides theory, which you can do at your own pace, we give you plenty of opportunities to put what you learn into practice. You'll get to do lab exercises and take quizzes to test your understanding.
By the end, you'll have a basic understanding of the science of ice cream and you're ready to experiment in the 'real world'!
Scroll down to read more about the content of the course.
Already a student? Return to course here.
Do you want to become an ICE CREAM SCIENTIST and:
Tweak and develop your own ice cream recipes?
Feel confident when experimenting with ice cream?
Speak the same language your technical experts speak?
Practice making different kinds of ice cream?
Have more confidence in the kitchen?
Then our ICE CREAM SCIENCE course might be the perfect start for you!
We'll take you on a journey to teach you the basic scientific concepts of ice cream making.
Whether you're a small ice cream business owner, an operator in the ice cream industry, or an enthusiastic home cook/chef, this course will open up a whole new understanding of ice cream!
By the end of this course, you will be able to:
Demonstrate the importance of sugar in ice cream.
Explain what the freezing point depression is and how it impacts ice cream quality.
Make different types of popsicles, with different eating experiences.
Describe the importance of air in ice creams.
Carry out different techniques to incorporate air in ice cream.
Explain the importance of controlling crystal growth in ice cream.
Carry out a simple experiment to compare different rates of crystallization.
Investigate how different factors influence the quality of your ice cream.
Compare basic ice cream recipes and determine what type of ice cream they make.
Hear From Our Happy Students

"I signed up and […] learned a great deal. Your course was very helpful. Thank you again for offering this resource!"​
Katie K (paid student, develops ice cream with co-packers)

"This ice cream course is a great way for those who want to know more about ice cream but don't know where to start. The great thing about this course is that you don't need prior knowledge, just dive right in and it explains basically everything you need as a beginner. I believe the best bits are the interactive elements. There are video recaps, quizzes, and experiments for all (if not most) of the topics so no matter what kind of learner you are, you can always find your way through this course."​
Rochelle K (audited the course, free of charge)
Did you know that sugar doesn't just make your ice cream sweet? It also makes it soft…
This can be explained by a concept called the freezing point depression. By dissolving sugar in water, the freezing point of water goes down. As a result, not everything turns into ice, some will remain liquid.
We'll cover this extensively in the course!
What are the course requirements?
Aside from a good understanding of the English language, there are no technical requirements to start this course. You do get more value out of the course if you've made ice cream at least once.
Do keep in mind that this course focuses heavily on the science behind ice cream. A basic understanding of chemistry can be helpful but is not necessary and you do at least need to enjoy science (even if you have no background in it at all!).
You do not need access to an ice cream machine to take this course, though some optional modules will use it.
What ice cream science will I learn?
WEEK 1: Freezing point depression & Popsicles
We make popsicles to demonstrate the role of sugar and the freezing point depression concept. We'll also compare different types of sugars and how they might work in ice cream.
WEEK 2: Crystallization & Kulfi
To make smooth ice cream, you don't want large pointy ice crystals. This week, we discuss how you can control the size of the ice crystals in your ice cream. We also discuss the impact of (improper) storage. To close, we make kulfi.
WEEK 3: Aeration & 2-ingredient ice cream
Air bubbles make an ice cream easier to scoop and warmer on the tongue. We discuss how you can incorporate those air bubbles, and keep them in. We make a 2-ingredient ice cream.
WEEK 4: Research mindset
We close the course with a few additional pieces of theory and really focus on helping you make your own ice cream recipes. We will teach you how to do the calculations and how to compare and experiment with recipes.
Did you know that using liquid nitrogen makes for a super smooth ice cream?
Liquid nitrogen is very cold, way colder than our freezers. As a result, ice cream freezes really quickly. This ensures that a lot of very small crystals are formed.
We'll cover this extensively in the course!
A flexible, but shared learning environment
This is an online course, consisting of 4 major modules.
We recommend you take 1 module per week.
Each module consists of :

Theory, self-paced, do it when it works for you – a mix of text & videos
Experiments to do at home/your workplace
A quiz to test your understanding

The course will take you at least 4 hours per week to complete (including the lab exercises). But, you're free to spend more (or less time) or take more weeks.
Becoming an ice cream scientist
This course won't give you hundreds of recipes. Nor will you get a magical formula to make good ice cream. Instead, we focus on developing a research & investigative mindset when it comes to making ice cream! We will show you how to experiment and how to think through recipes. By the end, you'll have a few recipes ready to go. But, most importantly, you'll be able to better understand new recipes you encounter!
Of course, becoming an ice cream scientist involves way more than what we can possibly offer in just 4 weeks. See this is as the perfect starting point in your ice cream scientist journey!
Did you know that you don't need an ice cream machine to make ice cream at home?
You can use other tricks to incorporate air into your ice cream: whip up cream, whisk some egg, or use a simple fork to fluff up your ice cream.
We'll cover this extensively in the course!
So, sign up if:
You've always been curious about how ice cream works.
You are ready to develop a research mindset.
You want to dive deeper than most online ice cream resources will offer.
FAQ – Anything else you'd like to know?
For who is this course?
For anyone who wants to learn how ice cream works. If you're just looking for recipes, or instructions, this is not the place to be. We like to take a deep dive into the science of it all!

I am a professional ice cream maker, will this training teach me something new?
You can probably make better ice creams than we can 😉. Instead, we might be able to offer you a more in-depth understanding of what goes on in your ice cream, to make even better ice cream in the future.

I don't eat sugar, can I still join?
We'll be using quite a bit of sugar in this course. Even though you're free to join, this might not be the best fit for you.

Do you discuss dairy-free & egg-free ice creams?
We do discuss some dairy-free and plenty egg-free ice creams. However, we do spend a significant amount of time discussing dairy and/or eggs. We think that understanding their role in ice creams, will help you find replacements for them.

Do you offer a refund policy?
Yes, we do! If the course is not what you expected, please reach out within 14 after purchase OR within 7 days after the start of the live sessions (if you sign up during a live session). All we ask is to provide us with some feedback as to why the course didn't meet your expectations so we can continue to improve!
Also please refer to our General Terms & Conditions.

How long will I maintain access to the course for?
We guarantee access to the course for at least 3 months after purchase. We will only revoke access when we stop offering this course, for which we currently do not yet have any plans.

I have another question!
Scroll down just a little more and reach out to connect with us!
Your Instructor: Annelie
Owner of FoodCrumbles – Food Scientist
Hi! I'm Annelie, your instructor in this course. I'm a food scientist (MSc.) by training and have worked in the food industry for over 10 years. Over the years I've worked with a wide range of products, from meat to confectionery, at both big and small companies, including ice cream manufacturing. Helping others is a passion of mine and I'd love to help you on your ice cream science journey 🙂. Together, we'll do a bunch of experiments to help you understand your ice cream!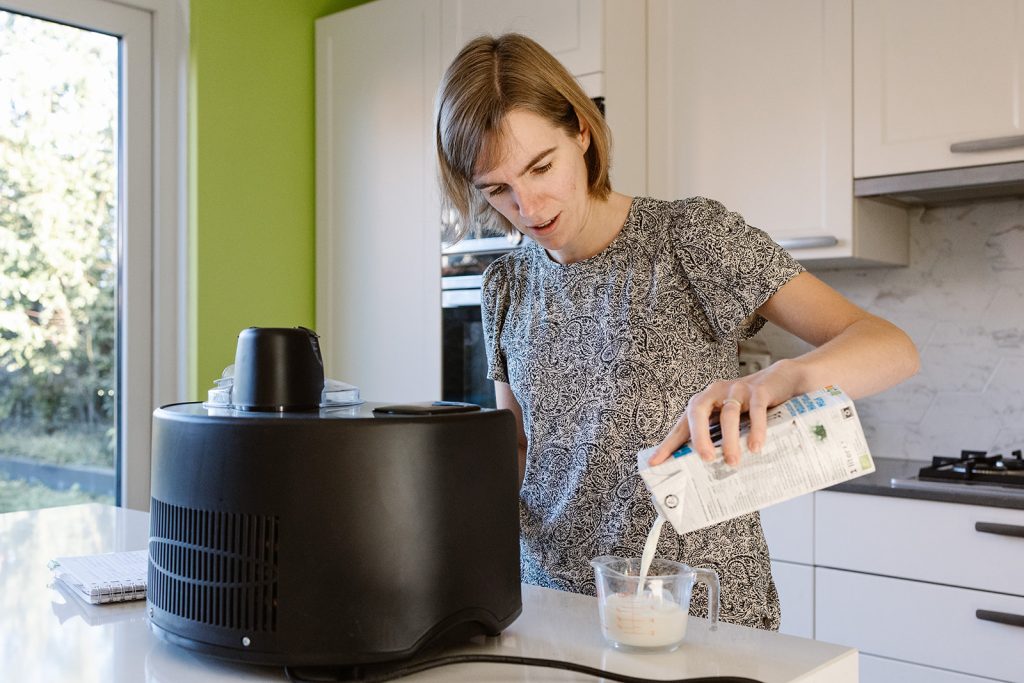 Have any more questions or feedback?
Please reach out and let us know!