🎉🎉👩‍🏫 20% off all of our Food Science courses until Sep-30th. Use the code BackToSchool upon check-out. 👩‍🏫🎉🎉
Already a student? Dive back in here: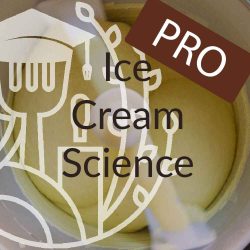 Ice Cream Science + 1:1 coaching
$ 120,00
Want to learn more about the science behind ice cream? But want a little additional help and hand holding on the way? Then this could be a great fit for you.
Get access to our flagship ice cream course AND get two private 1:1 sessions with the course instructor to discuss all what you learned during the course.
This product is an extension of our flagship ice cream science course. We offer 1:1 coaching to help you through the course. During two 30-minute sessions you'll have your private tutor to ask any question you want as long as it relates to the course ;-)!
Keep in mind that you have to book and complete both sessions within 2 months of purchasing the course. This to ensure we have enough available time slots for all additional coaching.