SALE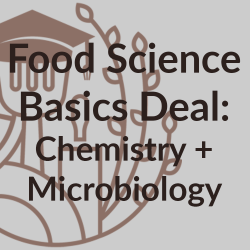 Food Chemistry Basics + Food Microbiology Basics
Looking to up your food science knowledge quickly? Understanding the basic principles of Food Chemistry and Food Microbiology gives you a great start.
And, buy TWO, get a discount :-).
Read more about Food Microbiology Basics & Food Chemistry Basics.
Common microorganisms in food
Controlling microorganisms
Introduction – This course is under construction until Dec-31 2023, you will continue to have access, however, keep in mind that sections may change and move. Reach out if you have any questions.